This account comes to us courtesy of friend-of-the-shop Andrew, an able cyclist and willing story teller. There's lots of riding out of the city – here's a prime example:
Hello friends!
Turns out I had a pretty swell tour last weekend and I'd love to share! It's pretty much my favorite tour route, having ridden it maybe 4 or 5 times, and it's eminently accessible from good ol' NY city.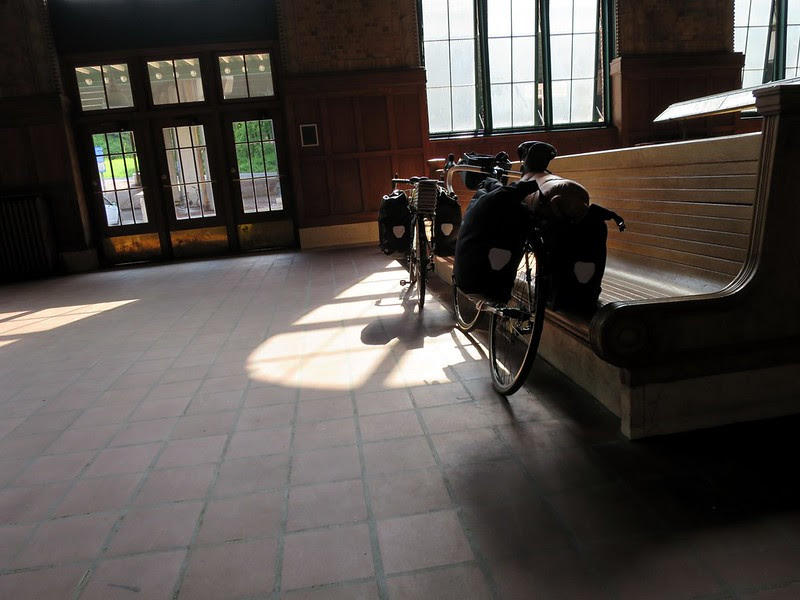 After staying up far too late on Friday night fretting over Saturday's forecast of rain, we made it to Grand Central just in time to catch the 7:43 train to Poughkeepsie. Unloading at Poughkeepsie around 10:45, we narrowly dodged the allure of the brown, vaguely-coffee-flavored water served at the station and started to wind our way through town headed east. We took advantage of the Dutchess rail trail to dodge some surface roads and made some last minute adjustments to the bikes – primarily moving my clip on fender rubber band-dealies from over my rear shift cable to under (it's a great tweak.. really improves shifting responsiveness). The real fun started as soon as we crossed the Taconic State Parkway and entered the Taconic Hereford MUA, an area frequented by mountain bikers who seem to enjoy gawking at touring bikes and their riders with a solidly puzzled look. Having rained the night before, the air was as thick with mosquitoes as the mud was on our tires – fun stuff, really!
North of Taconic Hereford we started winding through the thick of Dutchess county towards Millbrook. Now, don't get me wrong, Millbrook is a great little town and will furnish a fantastic BLT or 24 pack of Mountain Brew (check the Stewarts), but prepare yourself for a town full of fox hunts, just-a-touch-too-clean Range Rovers, and those really fancy slippers (loafers?) they sell at Saks and Barneys. In any case, we made our first real stop of the day for an early lunch and really enjoyed ourselves – like I said, the BLTs are great. Leaving town, we took a northeasterly track passing through seemingly endless and absolutely spectacular horse country. The roads here alternate between well shouldered but quite paved roads and nearly perfectly graded gravel roads. About halfway to our next major milestone, Millerton, we took a quick break in front of the Smithfield Presbetrian Church. The church is situated at the end of a valley, overlooks a kind of perfect graveyard, and is situated so close to a dairy farm that the smell of manure doesn't leave your nose for the next half an hour!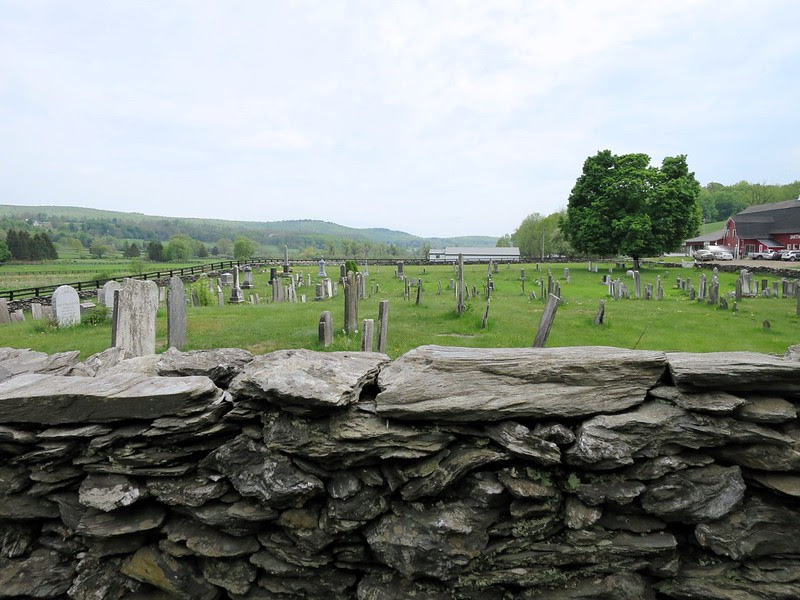 From Smithfield, we climbed and then descended towards Millerton. Along Charlie Hill road a 10 foot clearing opens up a view over the Catskills. Clouds on Saturday, so no view for us. Bummer. Millerton came and passed without much to note. There is an Irving Coffee cafe along the route in case you have hankering for an infusion of caffeine. We made a quick farmers market stop for asparagus and some surprise (read: mediocre, would not repeat) enriched bread with cheese and jalapeno. From Millerton it's a quick jaunt on big roads over to Connecticut through Lakeville and Salisbury.
Salisbury is a pretty key town along this whole journey – it's pretty much the last opportunity to shop for dinner before the climb to camp. Oh, and it has a totally sick public fountain just adjacent to the town hall – great place to fill up for the night. The grocery store, tucked right off the main street, is pretty good for a standard sort of grocery. We loaded up on beer and a woefully overpriced mini bottle of olive oil and quickly downed a bag 'o' Smart Pop. That was pretty tight. From Salisbury the climb up Mt Riga road begins. I suspect a handful of you're aware of Mt. Riga – it features pretty prominently in NYC Velo's annual Taconic 150 and is pretty legendary as dirt road climbs in the area go. Mt Riga road climbs up through a huge private land to a town in southwestern Massachusetts, Mt. Washington. In most years, Mt Riga Road, and then Mt Washington Road are pretty well graded – this year someone had the bright idea to regrade about 3 miles with topsoil. It was "fun."
As the climb up Mt. Riga road petered out we were petered out and were happy to be about halfway through our vertical for the day. We made our way across a couple miles of flat gravel and pavement to make it to the Mt Everett DNR area. Taking a right into the area the second to last climb began. At this point we were both pretty tired and ready to make it to our next destination, Guilder Pond; a small man made body of water at the foot of Mt Everett. During the day you'll find a handful of compatriot enjoyers of the outdoors – but once the sun starts setting – it becomes great for a quick skinny dip. Fortunately, we both made it up the last climb at just the right time. The last groups from the day were packing in, we both had great spirits, and the rain still hadn't yet started. We made our way through the woods, along a mini section of the AT and to a great rock that provides just enough gradient to get you into the water fast enough to mellow the cold.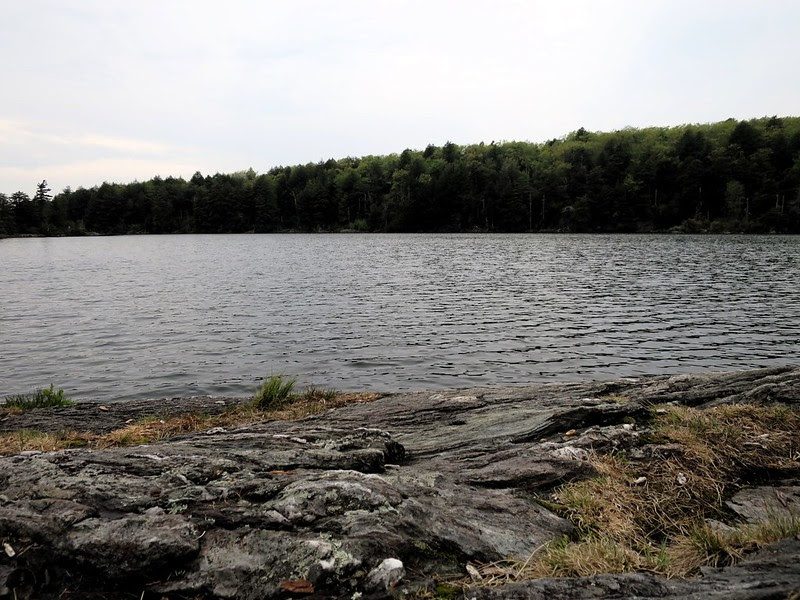 Now that we were wet and then dry and, most importantly, rid of the salty crust we'd both accumulated over the day, we began up the last climb to our camp site. The final climb leaves from the Guilder Pond parking lot through a gate and up a service road that washed out last year. While for the first couple hundred feet the grade seems reasonably, the next couple hundred serve a pretty nice punch. A fairly insane grade coupled with a loose unused gravel surface and 3 foot deep ruts sung the death knell for whatever sweat free cleanliness we gained in our quick dip. Resorting to hike-a-bike towards the top, we were more than relieved to reach our camp for the night: a beautiful east facing grassy clearing on the flanks of Mt Everett with a stone lean-to if conditions somehow got so bad.
The camp on Mt Everett is absolutely spectacular – think ¼ of a football field (are acres a better measure – who even knows how big a football field is??) of supple short grass with a sweeping eastward view. I presume the state manages the area for AT through hikers, but having spent at least one night there for the past 6 or 7 years and never having seen anyone, I'm starting to suspect that nearly nobody knows of the place. There is ample hard firewood in the woods surrounding and an absolutely unbeatable view over western Massachusetts. One summer a tour of mine coincided with 4th of July weekend – I couldn't count the number of towns whose fireworks I could see. Tent up, fire roaring, some drizzle started, and we both tired of the day.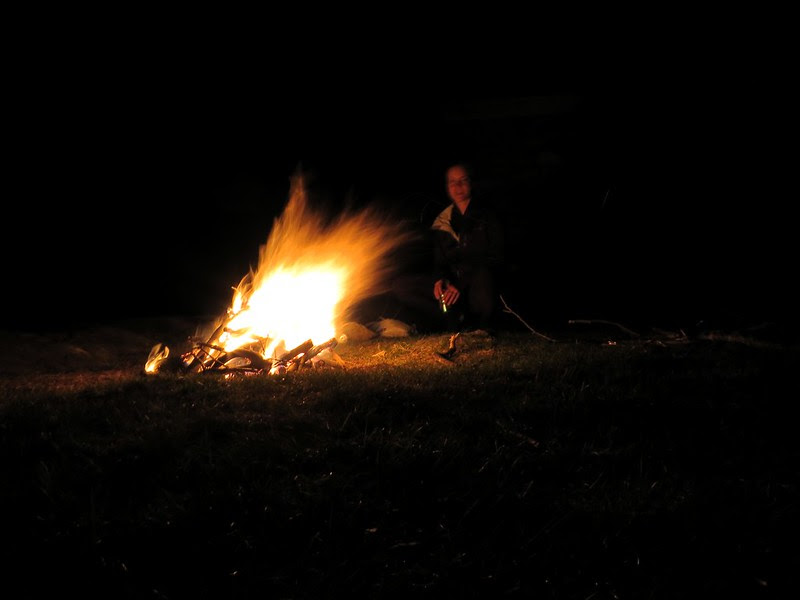 Sunday morning we woke around 6:30 greeted by a crystal clear sky and blazing sun – a fine surprise after a forecasted cloudy day! The rain never picked up too strongly overnight so the tent was damp outside but not soaked. We quickly proceeded to fire up the burner and get the Aeropress pressing. A grapefruit and coffee later, we were packing up camp and readying for the day. Sometime between stuffing my sleeping bag and pulling down the tent I remembered how awesome yet far far far away the outhouse at the Guilder Pond lot was. Persevering through the remainder of packing, we hit the road for day two of our two day tour. Making a quick stop at the outhouse, and then again at the pond, we started the largely downhill and northerly journey to Great Barrington for another coffee and breakfast.
After an uneventful but beautiful and downhill trip to Great Barrington we made it to the main street. Now, there are a couple of differing opinions on where to go in Great Barrington. My traditional stop is Fuel right on the main street there. The egg sandwich is pretty much unbeatable (no seriously, help me beat it!), and the company can be, well… downright strange. This past Saturday we sat in the front of the cafe to keep an eye on bikes and after about 10 minutes struck up conversation with our neighbor. His large pursuit in life is the creation of geometric projection models to channel light into 3D forms to purify water and kill bacteria and viruses — frankly I only half understood the depth of what he was talking about. He's also fascinated by women's clothing. Interesting conversation for sure. If anyone of you ever make it to Fuel and meet a fellow with two gold front teeth – strike up a conversation, you won't be disappointed!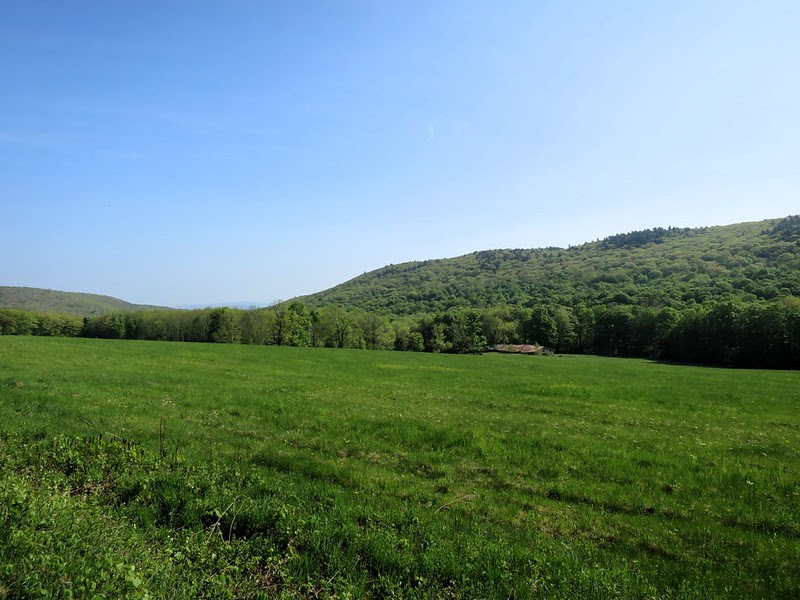 The alternate option in Great Barrington is Rubi's Coffee. Okay, so the espresso there is better, and the food is probably better too – but an egg sandwich and great company – I haven't been convinced to change. Regardless, a stop at Rubiner's Cheesemongers in front of Rubi's is in store. Since we had cheese left over from our groceries the day before, we limited our shopping to local salami and a baguette to replace our surprise bread from the day before. While the place is a bit spendy, you know it's the right place when the fellow slicing the salami laments that his early work schedule was getting in the way of the morel hunting he otherwise would have done in the morning.
Leaving Great Barrington we took a pretty much directly southern tack winding along well graded dirt roads in the shadow of Mt Everett and our campsite headed directly to Connecticut. Some of my fondest memories of this route come from this portion of the tour – the route rewards with views of the entire Mt Everett massif and delights with beautiful farmland interspersed with wetlands. Entering Connecticut, we shot a bit eastward to head Between the Lakes and down Wildcat Hollow to hit the Housatonic Valley.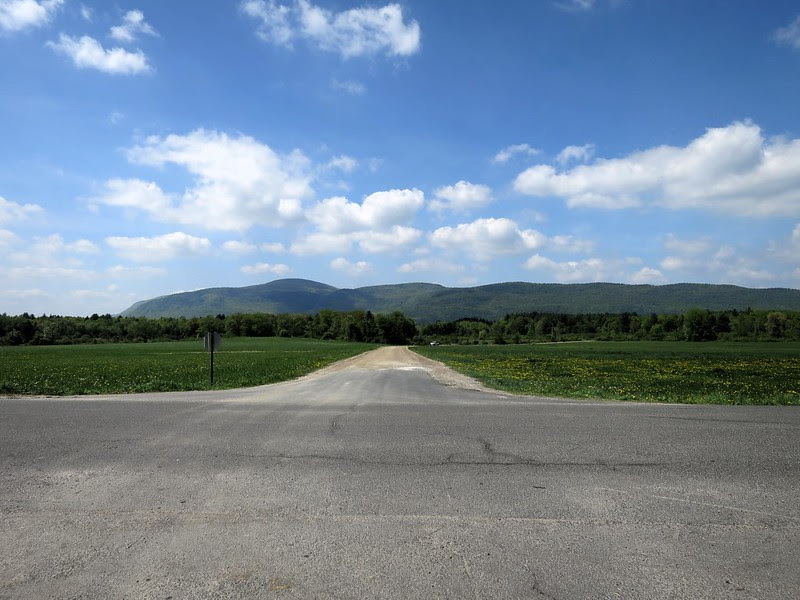 After a quick jaunt along the Housatonic river, we came to a bridge blocked by a Jersey barrier donning the message that 'Ye shall not pass' – okay, okay. Since we didn't need anything at the time we didn't cross the river to Falls Village and instead took a wee trail along the river towards the falls. I'll take a quick moment to note that you shouldn't count on much from Falls Village beyond booze – that said, the fine old lady at the liquor store is always a treat to visit.
Above Falls Village is a set of waterfalls (and as a result, a hydro plant), that serve as a great excuse to take an hour or two off and enjoy the warm weather. Dropping our bikes, we quickly scaled the lowest of the falls and set about eating lunch and finishing up the two beers we hadn't quite had the will to finish the night prior. Had the sun been out in full force at this point of the day it would have been a no brainer to take a quick dip. The lowest waterfall runs over a smooth slanted rock that, combined with a sheen of algae, makes a great waterslide. In any case, the intermittent shade had us gawking at 30lb carp longer than we otherwise would have, and balking at actually getting in the water. Eventually (maybe it was the beer), we decided to venture in to a pool above the lowest fall. Deep enough to take a quick dip, I eventually made it in after standing knee deep far longer than was necessary or appropriate. Realizing that the day was starting to get on, we made moves to get rolling. Descending the falls in bare feet, as soon as I warned about how slippery the rocks were my feet were level with my head in midair and I was back down on the wet rock!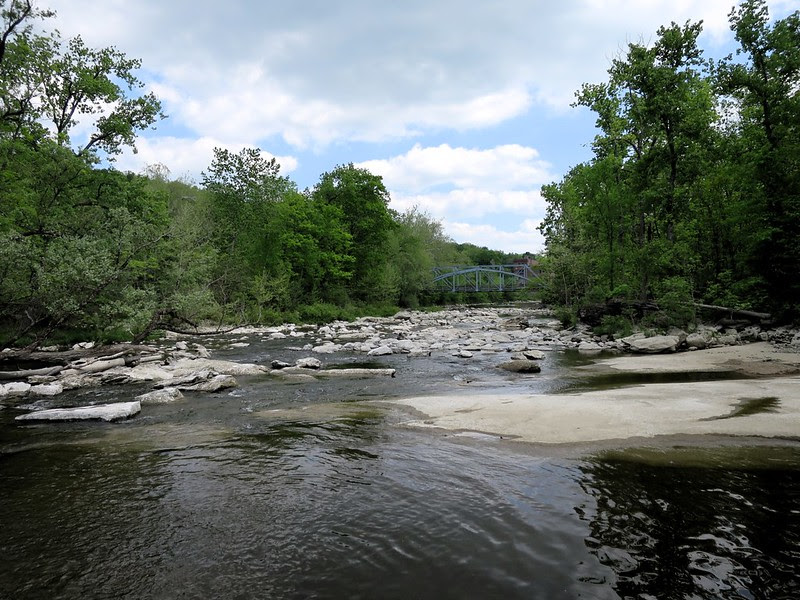 Rolling again, we crossed the Housatonic, barely dodging Falls Village and set our path between the train tracks and river. Starting paved, and quickly becoming well graded dirt, the road wove between the track-and-river and track-and-land. The high afternoon was marked by a river full of fly fishermen and a hot sun – not much to complain about. If anyone's ever taken the Amtrack to Vermont, the track that we we're riding along during this portion of the tour was the bane of your train ride – it's in such poor condition that the train is relegated to crawling along at a solid 30 miles an hour. Beautiful place, sadly horrible tracks.
Popping out at West Cornwall, a fantastically preppy village – J. McLaughlan has some kind of warehouse/outlet/headquarters there – we crossed back westward through the only covered bridge of our tour and set a southbound route on Route 7. Now, generally I like to avoid Route 7; it's busy and loud and fast, generally no fun on tour. The 5 or so miles below West Cornwall is barely the only exception – the road runs through a state park (Housatonic Meadows) and is largely downhill, making it a quick way to rack up some miles. While taking Route 7 was a bit contrary to our original route, it made sense at the time and worked out pretty well. Also to note, Route 7 is immensely popular with motorcycles: loud, fast, helmets and no. For those the slightest intrigued (myself included, I've got a ratty KLR 650), the variety can be pretty interesting!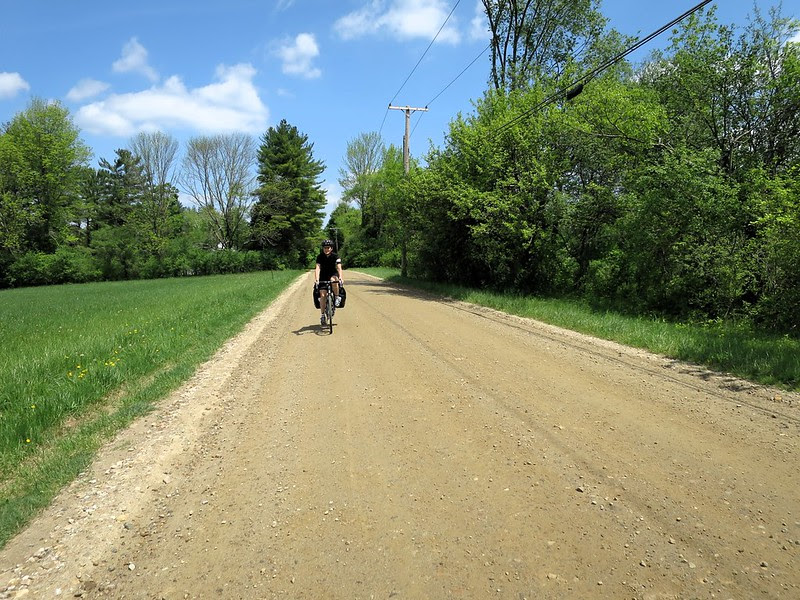 Route 7 winds out of Housatonic Meadow as it meets Route 4, our next turn. We took a quick break at the intersection gas station and enjoyed our time with ice cream bars, candy, and motorcycles. Apparently Connecticut doesn't have a helmet law (I still can't get over the fact that folks ride without helmets in any case…). From the gas station we headed up Route 4 to the west. 4 climbs up from the Housatonic and was the first leg of our strategy to dodge the remainder of Route 7 between where we were and Kent. At the crest of Route 4, we took a southern tack and followed the ridge-line roughly parallel to the Housatonic River and Route 7. The roads up there were surprisingly fantastic – great quality dirt and pavement through beautiful farm and country. Sooner or later our route took us screaming down the same hill we descended into Kent, CT.
Arriving in Kent we had about two and a half hours before a train made any stops along the Harlem line – our route home. Since there's quite little around many of the Harlem Line stops, we decided to spend our time in Kent. I'm not sure it was a great decision. Passing up and down Route 7 through town we could hardly find a restaurant or bar that was remotely appealing. Settling on a 'pizza and pasta' kind of place, we ordered a couple of beers, a salad and a pizza. The beer was great, everything else was hardly more than filling. Whatever, did the job – just be warned that there's not much in Kent.
With full stomachs, we headed west from Kent with our target set on the Tenmile River Station along the Harlem Line. Arriving with enough time to relax, we hit the grass and fell asleep, nearly missing our train home.
All in all, a pretty damn swell weekend out on the bike. The route has become one of my favorites of all time and I have no doubt that I'll be out there at least once more this summer.
Our rough route is on RideWithGPS:
While the route is probably 90% accurate, we switched some things around on the second day, primarily after West Cornwall.
Thanks for reading all this – stuck on a train home from Boston right now so things got a bit outta hand.
– Andrew